August 26, 2023
BNB Price Prediction & Analysis: A Deep Dive into Binance Coin's Future
BNB, or Binance Coin, is not just another cryptocurrency in the vast digital landscape. It is the native token of the Binance ecosystem, intricately woven into the fabric of one of the world's most influential crypto platforms. To truly appreciate BNB's significance, one must first understand its origins, its evolution, and the behemoth platform it represents: Binance.
Origins of BNB: More Than Just a Coin
BNB was initially launched in July 2017 as an ERC-20 token on the Ethereum blockchain. This was during Binance's Initial Coin Offering (ICO) phase, a fundraising mechanism to support the development and launch of the Binance exchange. The ICO raised $15 million, and these funds facilitated the rapid growth and development of the Binance platform.
Table 1: BNB's Initial Distribution
| Purpose | Percentage of Total Supply |
| --- | --- |
| ICO Participants | 50% |
| Binance Team | 40% |
| Angel Investors | 10% |
BNB's Evolution: From Ethereum to Binance Chain
In April 2019, BNB took a significant leap by migrating from the Ethereum blockchain to its own native blockchain, Binance Chain. This transition marked BNB's transformation from an ERC-20 token to BEP-2 token standards. The move was strategic, aiming to increase transaction speeds and reduce fees, thereby enhancing the user experience on the Binance platform.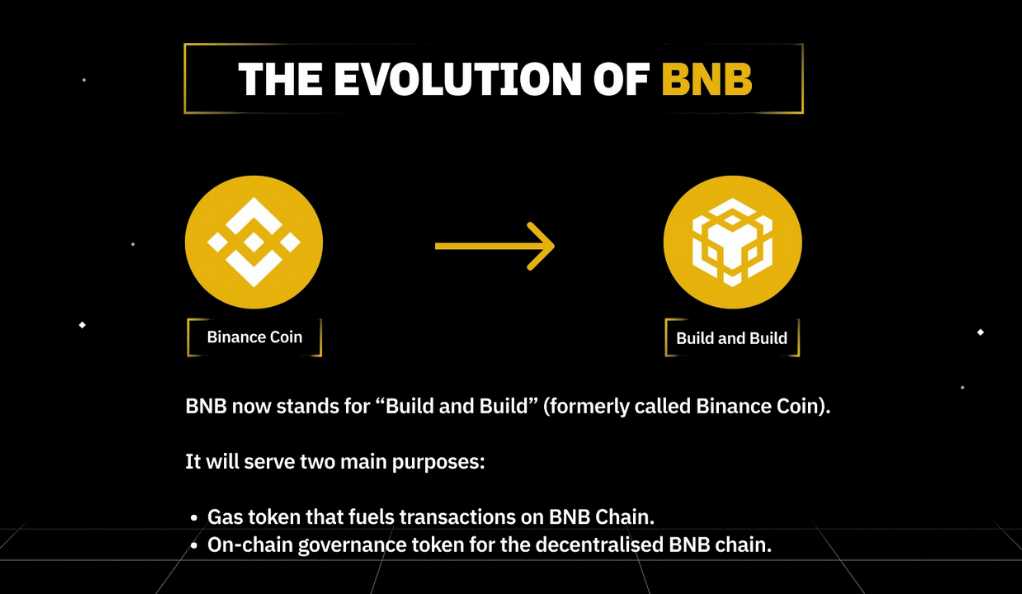 The Multifaceted Roles of BNB
BNB is not just a tradable cryptocurrency. Its utility within the Binance ecosystem is vast:
Trading Fee Discounts: Initially, Binance offered users significant discounts on trading fees when paid with BNB. This incentive played a pivotal role in BNB's early adoption.
Participation in Token Sales: Binance Launchpad, the token sale platform, often requires users to pay with BNB to participate in new token launches.
Staking: BNB can be staked on the Binance platform to earn rewards.
Decentralized Exchange (DEX) Utility: BNB is used as a native asset on Binance DEX, the platform's decentralized exchange.
Binance: The World's Largest Cryptocurrency Exchange
Founded by Changpeng Zhao (often referred to as "CZ"), Binance quickly rose to prominence and is now considered the world's largest cryptocurrency exchange based on trading volume. But what factors contributed to its meteoric rise?
User-Centric Approach: Binance prioritizes user experience, offering a seamless and intuitive trading platform suitable for both beginners and seasoned traders.
Vast Array of Cryptocurrencies: Binance lists a wide variety of cryptocurrencies, catering to diverse investor interests.
Security: Despite facing security challenges, Binance has continually evolved its security measures, reinforcing user trust.
Innovative Features: Binance is always at the forefront of innovation, introducing features like futures and options trading, staking, savings, and more.
Comparison Table: Binance vs. Other Leading Exchanges
| Criteria | Binance | Coinbase | Kraken | Bitfinex |
| --- | --- | --- | --- | --- |
| Founded | 2017 | 2012 | 2011 | 2012 |
| Trading Volume | Highest | High | Medium | Medium |
| Number of Cryptos | 500+ | 50+ | 60+ | 160+ |
| Features | Futures, Options, Staking, DEX | Staking, Earn | Futures, Staking | Margin Trading, Lending |
BNB's Ecosystem and Its Impact
Binance, while renowned as a leading cryptocurrency exchange, is more than just a trading platform. It represents a vast ecosystem, with each component designed to enhance the overall user experience and promote the broader adoption of blockchain technology. Let's delve into the core components of this ecosystem: Binance Chain, Binance Smart Chain, Binance Academy, and Trust Wallet.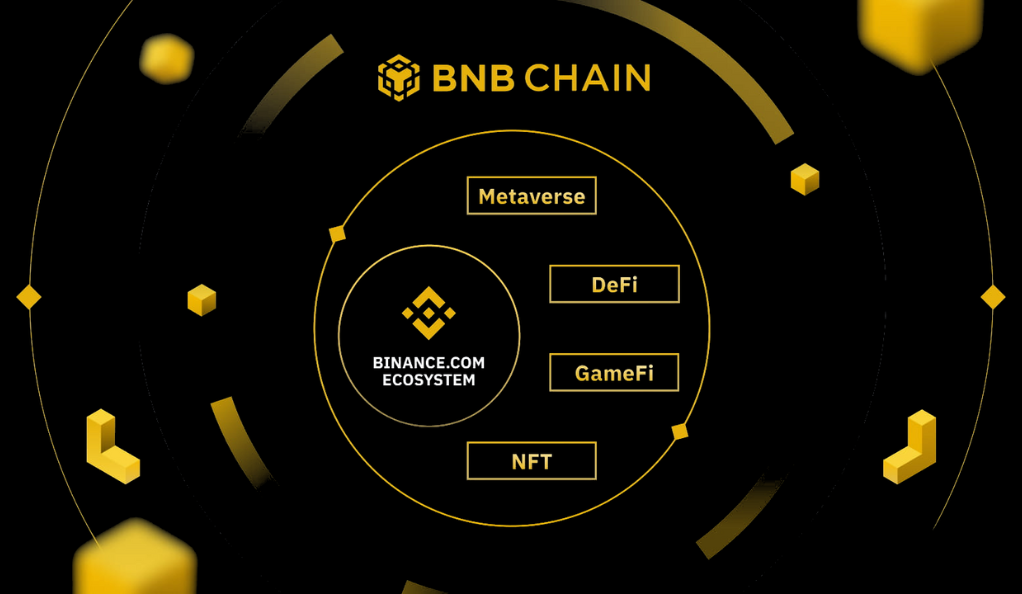 Binance Chain
Launched in April 2019, Binance Chain was Binance's answer to the need for a high-performance, low-latency blockchain. It serves as the backbone for Binance DEX, the decentralized exchange variant of Binance.
Key Features:
Speed: Binance Chain boasts a one-second block time, ensuring rapid transaction confirmations.
Native Asset: BNB transitioned from being an ERC-20 token on Ethereum to a native asset on Binance Chain.
Decentralization: Binance DEX, powered by Binance Chain, allows users to retain control of their private keys, ensuring a decentralized trading experience.
Binance Smart Chain (BSC)
While Binance Chain excelled in terms of speed and efficiency, it lacked the flexibility of supporting complex decentralized applications (dApps). Enter Binance Smart Chain, a parallel blockchain designed to bring programmability and compatibility with Ethereum-based applications.
Key Features:
Ethereum Compatibility: BSC is compatible with Ethereum's Virtual Machine (EVM), allowing developers to deploy dApps without major modifications.
Dual Chain Architecture: Binance Chain and BSC work side-by-side, ensuring users benefit from the best of both worlds – fast trading and advanced smart contract capabilities.
Staking Mechanism: BSC introduced a Proof-of-Staked-Authority consensus, allowing BNB holders to stake their tokens and earn rewards.
Binance Academy
In a rapidly evolving crypto landscape, education is paramount. Binance Academy serves as a free, open-access platform offering a plethora of articles, videos, and tutorials on all things blockchain and crypto.
Key Features:
Diverse Content: From beginner guides to advanced trading strategies, Binance Academy covers a wide spectrum of topics.
Multilingual: To cater to a global audience, content is available in multiple languages.
Community-Driven: The platform encourages community members to contribute, ensuring a rich and diverse source of information.
Trust Wallet
Trust Wallet, acquired by Binance in 2018, is a decentralized, multi-currency mobile wallet designed to store a wide range of digital assets. It's not just a wallet; it's a gateway to the decentralized web.
Key Features:
User-Controlled: Users have full control over their private keys.
Versatility: Supports multiple cryptocurrencies and tokens, including ERC-20, BEP-2, and BEP-20 tokens.
dApp Browser: Users can access dApps directly from the wallet, bridging the gap between users and the decentralized web.
Blockchain
At the heart of Binance's ecosystem lies blockchain technology. It's the glue that binds Binance Chain, BSC, Binance Academy, and Trust Wallet. By leveraging the transparency, security, and decentralization inherent to blockchain, Binance ensures a seamless, user-centric experience. Whether it's executing a trade on Binance DEX, deploying a smart contract on BSC, learning on Binance Academy, or securing assets on Trust Wallet, blockchain technology is the pivotal force powering these functionalities.
Current Market Position of BNB
Binance Coin (BNB) has consistently maintained its position as one of the top cryptocurrencies in the market. Its association with Binance, the world's largest cryptocurrency exchange, has played a pivotal role in its prominence. Let's delve into its recent trading volumes, price movements, and see how it stacks up against other major cryptocurrencies.
Recent Trading Volumes and Price Movements
As of the latest data:
BNB Price: $217.00
24-hour Volume: $394,981,620
Circulating Supply: 153,851,072 BNB
BNB has shown a slight price movement of 0.34% in the last 24 hours. The trading volume indicates a healthy interest in the coin, with a significant amount of BNB changing hands daily.
Comparison with Other Major Cryptocurrencies
To understand BNB's position, it's essential to compare it with other leading cryptocurrencies:
Table: BNB vs. Other Leading Cryptocurrencies
| Cryptocurrency | Price | 24h % Change | Market Cap | Volume(24h) |
| --- | --- | --- | --- | --- |
| Bitcoin (BTC) | $26,024.66 | 0.26% | $506,670,628,737 | $10,904,820,704 |
| Ethereum (ETH) | $1,649.01 | 0.28% | $198,233,701,271 | $4,760,332,040 |
| BNB | $217.00 | 0.34% | $33,385,343,906 | $394,981,620 |
| XRP | $0.5227 | 1.94% | $27,657,519,305 | $853,531,866 |
| Tether (USDT) | $0.9993 | 0.06% | $82,790,273,694 | $17,580,651,934 |
From the table, it's evident that BNB holds a significant market cap, placing it among the top cryptocurrencies. Its price movement is relatively stable, with slight fluctuations in the 24-hour window, similar to other major coins.
Expert Opinions on BNB's Future
Binance Coin (BNB), as the native token of the Binance ecosystem, has witnessed significant growth and attention over the years. Given Binance's stature as the world's largest cryptocurrency exchange, BNB's performance is closely watched by investors and analysts alike. Let's explore what experts have to say about the future of BNB, especially in terms of its buying potential and the influence of fundamental news on its price.
When is the Best Time to Buy BNB?
The crypto market is known for its volatility, and BNB is no exception. Investors are always on the lookout for the best time to enter the market, and expert opinions can provide valuable insights in this regard. According to the article from Outlook India:
Investors are currently accumulating liquid cash in anticipation of an upcoming bull run.
While the excitement of a potential bull run is palpable, savvy investors are more focused on determining the optimal time to buy.
Fundamental news has historically played a significant role in influencing BNB's price. Such news can act as a catalyst, accelerating the token's price movement.
The article suggests that the future price of BNB is largely based on technical analysis, given the token's past responsiveness to such analysis.
BNB's Price Analysis and Predictions
BNB has experienced a moderate downtrend recently, with its price consolidating over the past few months.
Over the last 7 days, BNB has gained over 5%, but it has declined by more than 18% in the past 30 days.
Technical analysis indicates that the $225 price region is a strong support level for BNB, having rejected price declines three times, forming a triple bottom structure.
This pattern is typically a bullish reversal sign, suggesting that BNB's price could potentially soar to the $500 region. However, for this prediction to materialize, BNB's price needs to break through and retest the resistance zone around the $350 mark.
If BNB fails to surpass the $350 resistance, its price might decline further, breaking the current support and forming new lows.
The Role of Fundamental News
Fundamental news, such as regulatory changes, technological advancements, partnerships, and global economic factors, can significantly influence cryptocurrency prices. For BNB:
Historical data suggests that fundamental news has been a major catalyst in driving BNB's price.
Positive news related to the Binance ecosystem, partnerships, or global adoption can lead to price surges.
Conversely, negative news, such as regulatory crackdowns or security breaches, can adversely impact the price.
Technical Analysis and Price Predictions for BNB
Binance Coin (BNB) has been a focal point for many traders and analysts due to its association with the world's largest cryptocurrency exchange, Binance. Its price action and technical indicators provide insights into potential future movements. Let's delve into the technical analysis and predictions for BNB for 2023.
Recent Price Patterns and Movements
Current Price: $217.1 USDT
24-hour Change: −0.60%
Recent Trend: BNB has experienced a moderate downtrend, with its price consolidating over the past few months. Over the last 7 days, BNB has gained over 5%, but it has declined by more than 18% in the past 30 days.
Technical Indicators and Analysis
Based on the data from TradingView:
Oscillators: The oscillators are indicating a neutral stance for BNB. This suggests that the market is waiting for a significant catalyst or event to determine its next direction.
Moving Averages: The moving averages also present a neutral outlook. This typically indicates a period of consolidation, where the price may move sideways before a significant breakout or breakdown.
Support Level: Technical analysis indicates that the $225 price region is a strong support level for BNB. This level has rejected price declines three times, forming a triple bottom structure, which is typically a bullish reversal sign.
Resistance Level: For BNB to enter a bullish phase, it needs to break through and retest the resistance zone around the $350 mark.
Predictions for 2023
While it's challenging to predict exact price points, based on the current technical patterns:
If BNB successfully breaks the $350 resistance and maintains its position above this level, it could potentially target the $500 region in 2023.
However, if BNB fails to surpass the $350 resistance and breaks below the $225 support, it might enter a bearish phase, seeking new support levels.
External factors, such as regulatory news, technological advancements in the Binance ecosystem, and global economic conditions, will also play a significant role in determining BNB's price trajectory.
Potential Competitors and Market Disruptors
The cryptocurrency landscape has witnessed the emergence of a new breed of tokens known as meme coins. These coins, often characterized by their playful and comical nature, have gained significant traction, especially within the BNB Chain ecosystem. Let's explore some of these meme coins and analyze their potential impact on BNB's market position.
BabyDoge
BabyDoge aims to bring cryptocurrency to the average individual while also focusing on a charitable cause: helping dogs in need. It saw a substantial rise earlier this year, appreciating by about 350% within a month. Recently, BabyDoge launched its decentralized exchange, BabyDogeSwap, marking its ambition to become a significant player in the DeFi space.
RichQuack
RichQuack is a community-driven project with over 100,000 on-chain holders. It's described as hyper-deflationary and offers automatic liquidity to its holders. The platform provides various features, including a decentralized multichain launchpad, raffles, and lotteries, all powered by its native token, QUACK.
Kiba Inu
Kiba Inu operates as a decentralized exchange on the BNB Chain, allowing users to swap various cryptocurrencies. The project offers multiple services, including Honeypot Checker, Kibatools, and Kibareports. To access these services, users need to hold Kiba Inu tokens.
Safemoon
Safemoon is known for its unique rewards system that benefits long-term holders. The protocol charges a 10% fee on token sales, with half of this fee being redistributed to existing holders. This model encourages users to hold onto their tokens, thereby stabilizing the coin's price to some extent.
Floki
Floki, inspired by Shiba Inu, blends the meme coin concept with utility. The project has ambitious plans, including the launch of its Valhalla metaverse, which will feature on-chain gaming interactions, upgradeable NFTs, and advanced game mechanics. Additionally, Floki has introduced FlokiFi locker for investors to store tokenized assets securely.
Impact on BNB's Market Position
While BNB remains a dominant force in the cryptocurrency world, the rise of meme coins, especially those within its ecosystem, cannot be ignored:
Diversification: The presence of meme coins diversifies the BNB ecosystem, attracting a broader range of investors and traders.
Increased Transactions: As these meme coins gain traction, the number of transactions on the BNB Chain will likely increase, further solidifying BNB's position.
Potential Risks: Meme coins are notoriously volatile. Their prices can be significantly influenced by social media trends, celebrity endorsements, or sudden news. This volatility can introduce unpredictability into the BNB ecosystem.
Market Perception: The rise of meme coins can alter the perception of the BNB Chain. While some view these coins as innovative and community-driven, others see them as less serious or even speculative bubbles.
Investment Strategies for BNB
Binance Coin (BNB) has emerged as one of the top cryptocurrencies, primarily due to its association with Binance, the world's largest cryptocurrency exchange. As with any investment, it's crucial to have a well-thought-out strategy when considering BNB. Let's delve into when and how to invest in BNB for maximum returns and understand the associated risks.
When and How to Invest in BNB
Dollar-Cost Averaging (DCA): This strategy involves investing a fixed amount in BNB at regular intervals, regardless of its price. Over time, this can average out the cost of acquisition, reducing the impact of market volatility.
Technical Analysis: Use technical indicators and chart patterns to determine potential entry and exit points. For instance, if BNB is approaching a strong support level and shows bullish reversal patterns, it might be a good time to buy.
Fundamental Analysis: Stay updated with developments in the Binance ecosystem. Positive news, such as new partnerships, technological advancements, or regulatory approvals, can lead to price surges.
Diversification: Instead of putting all your capital into BNB, consider diversifying across multiple cryptocurrencies to spread risk.
Long-Term Holding: Given the growth potential of the Binance ecosystem, consider holding BNB for the long term. This strategy can potentially yield higher returns as the platform evolves and expands.
Risks Associated with Investing in BNB
Market Volatility: Cryptocurrencies, including BNB, are known for their price volatility. Prices can swing dramatically in short periods, leading to potential losses.
Regulatory Risks: Changes in regulatory stances towards cryptocurrencies in major markets can impact BNB's price. For instance, a crackdown on crypto exchanges or stricter regulations can lead to price declines.
Technological Risks: Issues like security breaches, software bugs, or problems within the Binance ecosystem can adversely affect BNB's value.
Competition: The emergence of new exchanges or platforms offering similar or better features can pose a threat to Binance and, by extension, BNB.
Mitigating Risks
Stay Informed: Regularly follow crypto news, especially updates related to Binance and BNB. Being aware of market sentiments and upcoming changes can help in making informed decisions.
Use Stop-Loss Orders: Setting a stop-loss order can limit potential losses. If BNB's price drops to a certain level, the coin will be automatically sold, preventing further losses.
Diversify: Don't put all your eggs in one basket. Diversifying your investments across various assets can reduce the impact of a poor-performing asset on your portfolio.
Educate Yourself: Before investing, take the time to understand the intricacies of the crypto market, BNB's role in the Binance ecosystem, and the broader blockchain industry.
Seek Expert Advice: If unsure, consider consulting with financial advisors or experts in the cryptocurrency space.
Conclusion
The realm of cryptocurrency, with its dynamic nature and rapid advancements, offers both unparalleled opportunities and inherent risks. Binance Coin (BNB), standing at the forefront of this landscape, encapsulates this duality. As the native token of the world's largest cryptocurrency exchange, BNB has showcased remarkable growth and adaptability, making it a focal point for both seasoned investors and newcomers alike. However, as with any investment, a well-informed approach, grounded in research and risk management, is paramount. By understanding the intricacies of the Binance ecosystem, staying updated with market trends, and employing strategic investment practices, individuals can navigate the BNB investment journey with confidence and foresight.